Opening the door of economic opportunity
San Juan County, the Navajo Nation, and the Federal Railroad Administration are studying the economic feasibility of freight rail service to the Four Corners region and potential railroad alignments from Gallup to Shiprock.
Leave a Comment
An Opportunity to Connect and Grow
Despite 140,000 route miles, the U.S. freight rail network does not currently serve San Juan County, the Navajo Nation or the greater Four Corners region.
This Feasibility Study will develop activities and alternatives for a proposed new rail line between San Juan County near Shiprock with a connection to the BNSF Railway near Gallup and Thoreau.
Looking Ahead
Develop activities and alternatives
Propose new rail line
Road and rail access
Connection to the BNSF Railway
Serve San Juan County
Proposed Routes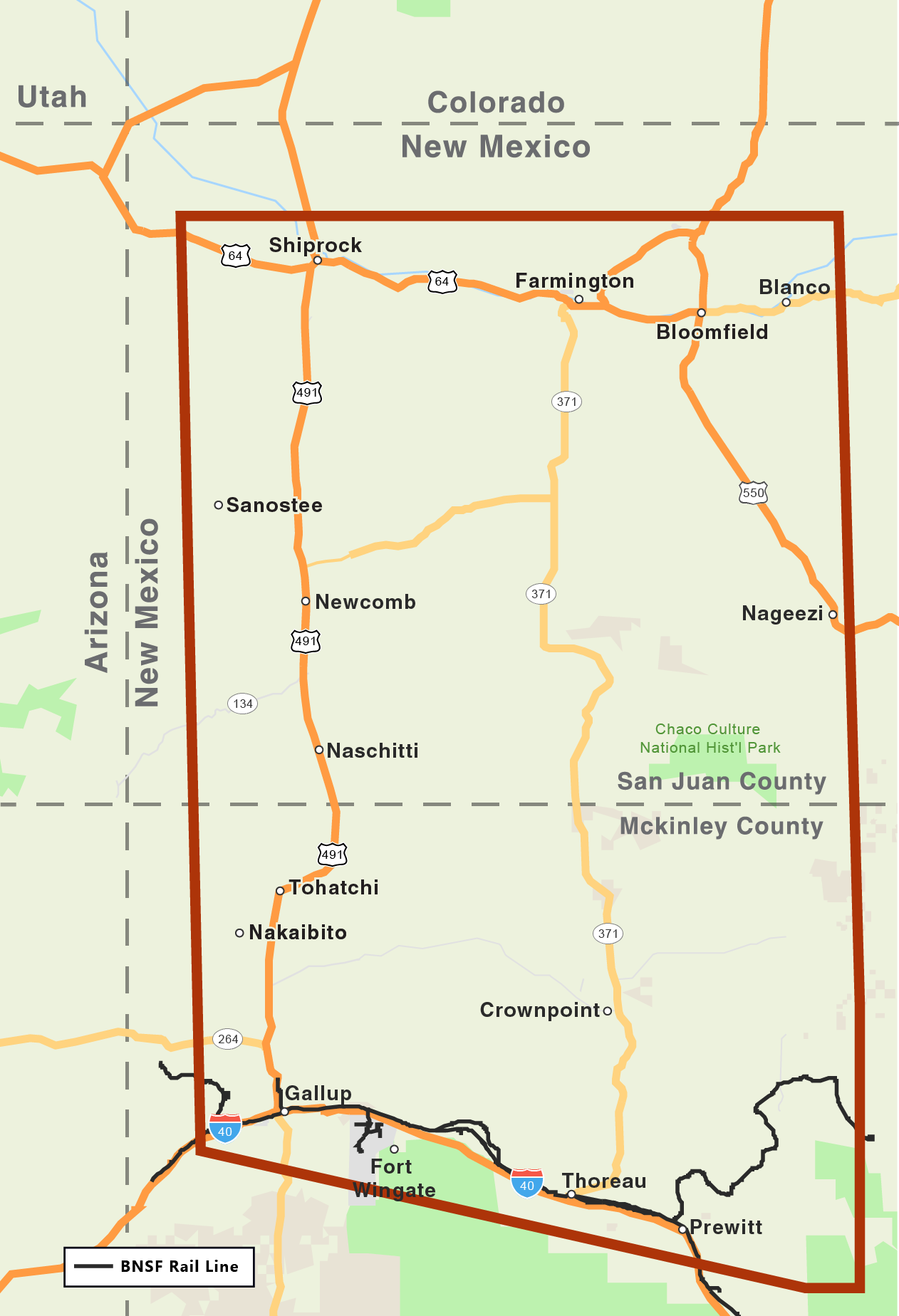 Upcoming Events
There are no upcoming meetings planned. Visit our Resources page to view past meeting materials.
What are the benefits of the project?
Those in the project area can expect:
Adding freight rail service to the greater area.
Reduce the amount of commercial truck traffic.
Decrease the potential for crashes.
Learn more
What is the expected project timeline?
The Study is scheduled to begin in September of 2022 and last through 2024.
How is the project funded?
San Juan County was awarded $2 million through the Better Utilizing Investments to Leverage Development (BUILD) Transportation Discretionary Grant Program, which is administered by the US Department of Transportation.
What is a Feasibility Study?
During the feasibility study, the project team will identify and evaluate potential route alignments, transloading facilities and rights-of-way. Environmental impacts will be studied, as well the integration of railroad project development.
What are the potential routes?
The basic route for a Four Corners freight rail line will run from near Gallup to the vicinity of Farmington in San Juan County. The feasibility study will analyze the potential benefits of specific routes.